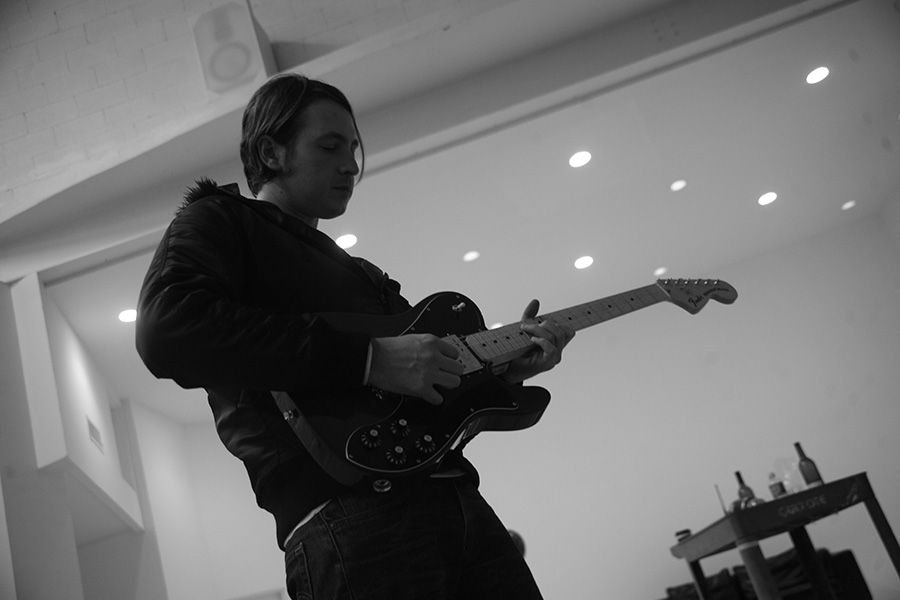 ===============================================================================================================
BIO / SERVICES
===============================================================================================================
Welcome to my webpage! I am Ryan Crosby, a producer, singer/songwriter, and guitarist in the Los Angeles area, also known as PRYVT RYN for my vocal releases in the dance/house genres.
I have been able to work with a lot of talented people over the years in the pursuit of creating amazing music. My experience in the Rock, Electronic, Pop, Hip-Hop, R&B and Jazz genres has fused into a unique diversity that allows me to work well on a variety of projects in different musical styles. I have a studio with a full band set-up in the arts district of Downtown Los Angeles that is a great place for clients to do high-quality demos and songwriting sessions, as well as designing custom placements for commercial, TV, and film. Recent clients include a 60's & 70's throwback artist, Latin Hyperpop, Urban Pop/Dance, pop rap duo, hardcore hip hop, sound design/music for a playhouse, spiritual jam band, and musical directing for a legacy 80's act and more!
In addition to music production services, I also teach guitar, bass, Ableton production lessons (former DubSpot instructor), and intermediate piano and voice. If you are interested in my production services, lessons, musical direction of any sort, or would like more information, contact me today.
BIO
Early musical stepping stones were a feature in Guitar For the Practicing Musician (the #1 magazine for guitar at the time) at the age of thirteen as well as being part of a major record deal with VAST at nineteen. This led to cutting my teeth in hip hop and R&B, performing on records with Kurupt, Tupac, George Clinton, Snoop Dogg, Myka Nyne, Abstract Rude, C-Bo, Aceyalone, Dr. Oop, Aftermath's Slimm The Mobster and Fat Joe in the late 90's and Aughts. I worked with my bands Attached By Wires (live drum'n'bass/rock), Kid Whiskey (hard rock), The Mansion Boys (pop-rap) and Crystal Twin (electronic dream rock) as well. I currently perform as a solo artist (highlight show was opening for Wyclef Jean in Miami for Super Bowl), DJ, and I record as a dance vocalist under the pseudonym PRYVT RYN, with over 80 releases since my debut on "Forget You" with Years.
In addition to self-releasing several original albums as an artist, I have done a lot of co-writing. Recent works include:
Co-wrote and performed the theme song to "Impractical Jokers" with Kenny Segal."The Feels" with Estelle and Kadis (featured recently on Grey's Anatomy) as well as co-production (bass and guitar) and co-write on Estelle's new release "Ain't Yo Bitch", guitar and bass on Milo's "Magician (Suture)", production and performance on new VAST material, including "She Is Murder" (which has a fantastic video!), the King Fantastic record "The Great Man Theory" and following releases, and Crystal Twin "Wicked Lovers". I recently played guitar and co-wrote many of the tracks on Markus Schulz' recent record "Watch The World". Recent collaborations include the Top 20 Russian hit "Mirror Mirror" for rapper T-Killah, as well as "Money On Love" for Russian pop star Sergey Lazarev (which was on the Russian Billboard "Album of the Year" in 2011). I also do commercial music, working closely with Elias Arts and other clients to score national commercials for KFC, Xfinity, Honda, and Kashi, as well as placing my own music with the LA Tourism Board, Tidy Cat, "The Jersey Shore" as well as "World Of Jenks" and "Buckwild" and Steve Harvey Productions. Recent TV work has also included some swampy Americana music for the show "Deep South Paranormal". My film work has included contributing four songs to "Fuel", which won the People's Choice Best Film award at Sundance, and original music for MMA film "Never Back Down 2" and the campy hip-hop Western "Gang Of Roses". I also co-wrote and co-produced "Please", the 2009 AVN winner for Original Song of the Year for the film "Dark City".
==============================================================================================================
SERVICES
==============================================================================================================
Production ($250 and up) I produce a track for the client's requests. Day rate is $250 minimum. Can be done remotely with people outside of US.
Studio Rental ($40/hr) Client rents my production/engineer/musician services, and can use my studio located in Downtown Los Angeles. Macbook with Ableton/Logic, great plug-ins, c414 Mic, Amplifiers, Drumset, Big Monitors.
Lessons: ($50/hr) Ableton, Guitar, Bass, or Music Production. Can be at my studio in Downtown LA or at your place.
Topline Vocals ($150 and up) I sing on your track. Look up PRYVT RYN songs for examples. Price fluctuates based on amount of singing.
Guitar Parts ($100 and up) I play guitar on your track. Price fluctuates on amount of playing required. Look up Boehm "Summer Sippin" on my soundcloud link on this website for a sample.